A User-Friendly Guide to Choosing the Healthiest Seafood!
Choosing the Healthiest Seafood for You and the Environment!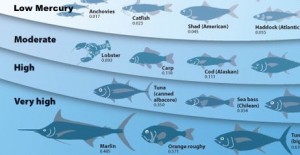 Diet and nutrition is a foundational component of naturopathic medicine. Whole foods provide the body with all the nutrients it needs to heal and function optimally and dietary fish is a great example of this! It is rich in protein, vitamins, minerals and omega-3 fatty acids making it a superfood that fuels the body and optimizes heart health, cognition, the nervous system, and overall well being. In fact, regular fish consumption can decrease your risk of heart attack and stroke. Studies also show that when pregnant women consume fish regularly their babies have improved coordination and cognition.
Unfortunately not all fish are beneficial for our health due to the presence of environmental toxins. Rather shockingly, the government of Canada allows fish to be marketed even if it exceeds Heath Canada's total mercury content guideline. In addition to high toxin levels, governments around the world allow unsustainable fishing methods that threaten fish populations and the environment. Due to these flawed standards, we must stay informed so that we can make choices that are best for our health and the environment.
Below is a user-friendly guide to choosing the healthiest seafood while highlighting the fish you're better off avoiding.  Bon appetite!
Adapted from the EWG's consumers seafood guide: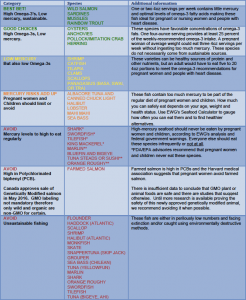 Why is it important to avoid these toxins?  Read below…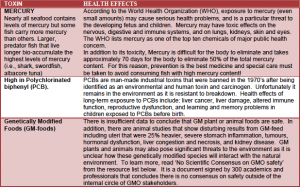 Download this wallet sized information card at the below link: http://www.nrdc.org/sites/default/files/walletcard.pdf

Resources
CAN/CGSB-32.310, Organic Production Systems – General Principles and Management Standards, describes the principles and management standard of organic production systems.
"GMO Facts." The NonGMO Project RSS. Web. 15 Apr. 2016.
"No scientific consensus on GMO safety." Environmental Sciences Europe.Hilbeck, Angelika, et al.
A guide to protecting your family's health: Mercury in Fish – Wallet card
World Health Organization – Mercury and Health
Mercury Levels in Commercial Fish and Shellfish (1990-2010)
Sea Choice – Candian government allows marketing of fish with high mercury content
Harvard Health Publications: Getting your omega-3s vs. avoiding those PCBs