Strawberry-Banana Coconut Milk Oatmeal – Fast, Delicious, Dairy Free, & Gluten Free
Oatmeal: A Warm Hug on a Cold Day
Your Digestive System will Thank You!
As the winter months approach it's time to switch out cooling summer smoothies for warming and nourishing foods.  According to Traditional Chinese Medicine and Naturopathic Medicine, one needs to eat for the season and their constitution, and it couldn't be more true!  If you feel chronically cold with frigid fingers and toes, and you've notice your digestion just isn't what it used to be – try switching out those cold-raw meals for cooked foods and warming spices and herbal infusions (i.e., ginger, cinnamon, cayenne, turmeric, horse radish, garlic, etc).  Your whole body from your gut to those little toes will thank you!
Below is a gluten-free and dairy-free oatmeal recipe that is fast and delicious.  This one contains the famous combination of strawberry and banana but with a simple base of oatmeal the options are endless; take for example the picture of pomegranate-pear-banana oatmeal below.
All you need to start is the one or two secret starters to delicious dairy free oatmeal…
Use 1 part Canned coconut milk with 1 part filtered water opposed to the store bought milk alternatives.  This gives a rich, creamy base that doesn't have a strange aftertaste that some store bought nut milks have.  Alternatively, you can make your own '3 ingredient – 10 minute coconut milk' which is also delicious.   You won't miss the cows milks, we promise!
Add sliced banana to the oats during cooking.  In addition to fibre, potassium and all the other good stuff that comes with bananas, it adds a delicious and natural sweetness.
A quick note on oats:  Instant vs Rolled? Gluten-free?
Opt for rolled oats opposed to instant/quick oats.  Sure instant oatmeal is fast but rolled oats only take about 5-10 minutes, they keep their texture, don't get mushy, and they have more fibre without the added sugars and preservatives of instant oatmeal products.
Gluten-free. Oats are naturally gluten-free but they are often processed in facilities that also prepare gluten-containing grains and thus have traces of gluten.  If your sensitive to gluten, ordinary oats with traces of gluten should not pose any concern.  If have Celiac disease (a complete intolerance to the wheat protein gluten), you will want to buy oats that are certified "gluten-free".
Strawberry-Banana Coconut Milk Oatmeal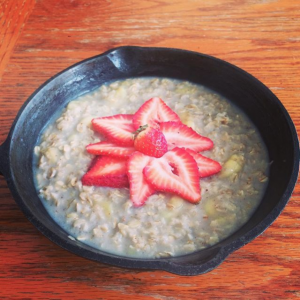 Servings: 2 
Cook time: 10 minutes
Ingredients:
1 cup filtered water
1 cup canned coconut milk (BPA free can)
1 cup rolled oats
1 banana (sliced)
1tbsp maple syrup
1/2 tsp cinnamon
1/4 tsp salt
Strawberries (sliced)
Directions:
Bring water and coconut milk to a boil.  Add oats, banana, cinnamon, maple syrup, and salt and bring to a medium-low simmer for 10 minutes, stirring occasionally.
Top with fresh strawberries.  Strawberries can also be added at start if you prefer them warm as well.
Optional: Try other fruit such as include apples, peaches, berries, or as in the below picture, banana-pear with cinnamon and pomegranate! Add nuts and seeds for additional protein and healthy fats.

Bon Appetite!
Dr Angelica Kada & Dr. Karen Hack at Head to Toe Health Centre